---
Meeting Info / Newsletter Link / New Resident Packet
HOA Board of Directors and ACC meet monthly at Bear Lakes Country Club.  The ACC meets at 4:30 and the Board meets at 5:00.  Notice of any location change will be posted at the Gatehouse. Upcoming meetings are:
Stay safe and healthy during these COVID-19 troubling times.  Practice social distancing, wear a mask, stay calm and carry on!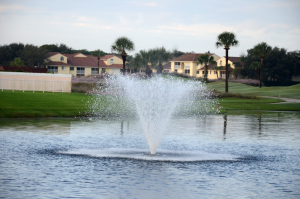 Thank you for visiting the Bear Island Homeowners Association website. Bear Island is a manned-gated community of 227 homes designed and built by Burg & DiVosta. Bear Island is a Florida not-for-profit corporation that manages the common areas of the gated community. Bear Island's only entrance is on the east side of Village Boulevard, north of Community Drive, between Palm Beach Lakes Boulevard and 45th Street in West Palm Beach, Florida.
Many of the homes look out on the manicured greens of Bear Lakes Country Club's Links Course, one of the club's two Jack Nicklaus-designed courses. The Bear Lakes clubhouse overlooks the Lakes course.
The immediate area around Bear Island has much to offer: 
Be sure to visit our Recreation page to find out more about the many parks and facilities in the area. Bear Island homeowners are also members of the umbrella organization called The Villages of Palm Beach Lakes Property Association, Inc. , or Villages POA, which is responsible for maintaining the street medians and parks, tennis courts and three swimming pools for the many homeowners living in the Villages.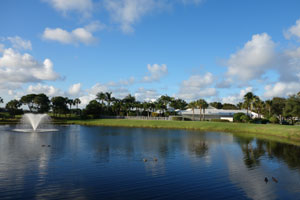 As a Bear Island homeowner, you are responsible for maintaining and repairing your home (including maintaining, painting, repairing, replacing and cleaning your roof, driveway, walkways and backyard. The HOA is responsible for maintaining and repairing the streets, sidewalks, driveway aprons, common areas, signs, entrance and gatehouse. It also maintains the landscape of your front yard, including mowing and fertilizing the grass and pruning shrubs. Homeowners are responsible for replacing plants, sod and trees in their front yards. Please see our Approved Plant List . 
The entrance to Bear Island is staffed 24/7 by gatehouse personnel provided by Miami Management Corp.
For the services described above, you will pay a quarterly maintenance fee and be subject to the governing documents of the Association, consisting of the Declaration of Covenants and Restrictions, Articles of Incorporation, By Laws, Rules and Regulations, as amended from time to time and resolutions of the Board of Directors adopted from time to time, all of which can be found on the Governing Documents  page of this website.
Please note any exterior changes to your home, or front-yard landscaping changes, require an application to the Architectural Control Committee, which can be found on the Forms  page of this website. Replacing mulch is just maintenance and does not require an ACC application.
Contact Us
Bryan Welch, Property Manager – 561-686-7818
Email: BWelch@miamimanagement.com
Mailing address:
Miami Management, Inc., 11770 US Highway One, Suite 501,
North Palm Beach, FL, 33408
For emergencies after hours and on weekends and holidays, please call 561-686-7818 and follow the prompts to reach an emergency-service operator.